| | | | | |
| --- | --- | --- | --- | --- |
| [ | mood | | | awake | ] |
(WARNING: Image heavy!)


The Sims 2 has decided to stop working, so I decided to revert back to the Sims 3. I always thought the Sims in TS3 acted a little too normal. Ah, well. It seems any association with Jrock leads to automatic weird, anyway. And so I set the scene for the Diru-ey house:






First off on the roster is Die, guitarist virtuoso and tag-playing maniac:




I still haven't gotten used to creating Sims in TS3, but I think he looks alright, all things considered.

Next we have Toshiya, the normal one:




Yeah, I know. He doesn't look like Toshiya at all. As I said, still learning.

Now we have Kyo. Loner, couch potato, and weird face-maker.




Not too bad, all things considered, I think.

And last, but not least... we have *drumroll*... CJ! My self-Sim. As the resident girl, she tends to gravitate away from the weirdness.




I used to have striped socks like that. It was wonderful.


Now, on to business.




Kyo and Die decide to so some male bonding in the way of playing tag. They kept stopping every five seconds, though. I guess it's the chain-smoking.





No comment.





They live in a cute little house by the sea. They seem to like it. They haven't gone to the beach yet, but CJ talks about jellyfish an awful lot.





Die talks to CJ about speech bubbles. CJ seems thoroughly interested. Meanwhile, Kyo and Toshiya decide that they want no part of this and go their separate ways. This tends to happen a lot.






Die and CJ participated in an enthusiastic game of tag. This also happens a lot.





Kyo decided that the foosball table took too much effort to play, and plopped into his seat on the couch.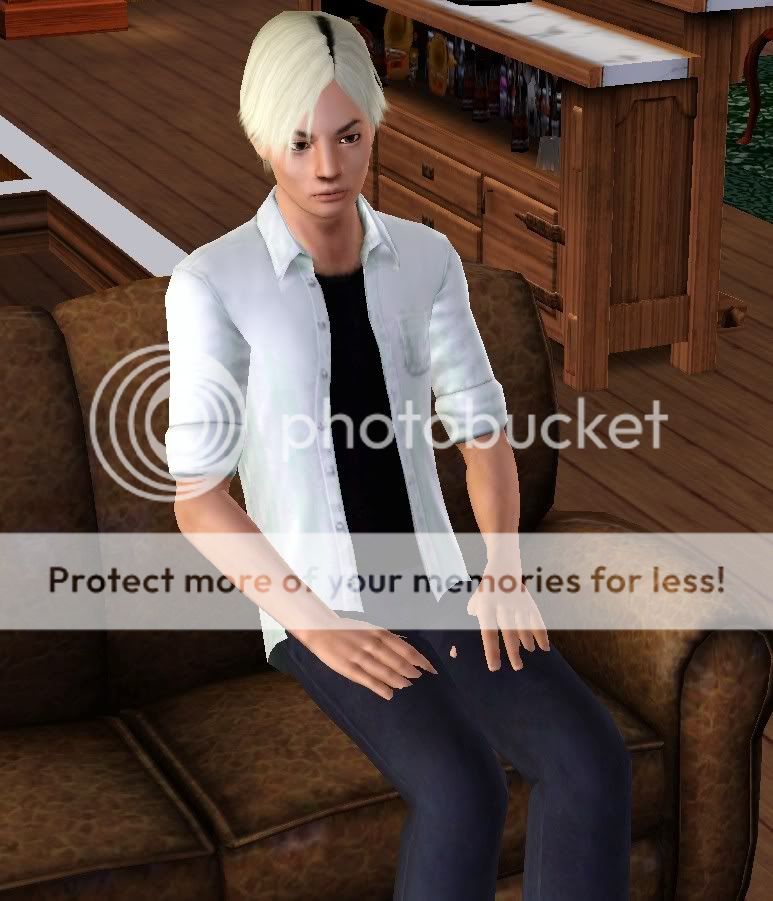 Look at that thumb. Freaky bastard.





Die: Wait... CJ... You're a girl. Go make me a sandwich.
CJ: ...





CJ: The Mona Lisa always freaks me out. What's she smiling at, anyway?




Die: I know what she's smiling about.... *Lewd joke about a paintbrush ensues*.




Die: ...and then Toshiya realized we were just cutting out his bass lines, so he was pretty pissed. But then-
CJ: :How does he keep his hair that red?:





Meanwhile, back inside, Kyo yells at the video game like it's done him some great personal wrong. Toshiya hasn't said one word all day.






They sit down for a nice family dinner, but Kyo decides he wants no part of this. His hunger eventually won over, so he begrudgingly grabbed a plate.




Die makes a lewd joke about a Brontasaurus, and Kyo decides that he's not that hungry after, all. Toshiya thinks it's funny, anyway.





While everyone settled in after dinner, I discovered that Die disappeared.

And God said "Where the hell is Die?"




And there the hell was Die.




And God said "What the hell is Die doing?"
And nobody knew what the hell Die was doing.





Kyo decides that the living room is too crowded and decides to paint a cigarette on a mountain. He may be a little drunk.


A few hours later, everyone decides to settle in for bed.




Toshiya gets up before everybody else and stares at nothing for the better part of an hour. But that's not the freakiest thing about this scene. If you looks right behind Toshiya...





You'll see that CJ sleeps with her eyes open. Yeah, I have no idea.


Soon, morning comes and everyone begins to wake up.




Die gets bored and pretends the mirror is Kyo.

Die: Hide behind your creepy bald guy all you want, Kyo. I keel you.


Speaking of which...





Kyo still hasn't woken up.




Okay, I know it was a little boring, but in my defense, they're a too damn normal. I think I'll have to shake up that house one way or another.